Leading producer of sensory books in Poland presents:
Queit Book sensory book for a child 1+ Safari queue
For whom?
The Safari Queue book with puppets is a fantastic gift idea for a child from the age of one to 3 years
Benefits
✔ It's great learning while having fun! Small motor skills training thanks to Velcro elements, learning the first numbers, letters and shapes.
✔ The sensory book also stimulates the development of the senses: touch (various textures of fabrics), sight (colored elements of the book), hearing (rustling pages).
✔ Unlimited possibilities for creative and valuable fun with the Safari Queue! It is also a great opportunity for a parent to play with a child and for siblings to play together.
Product description
The sensory book is made in the form of a rustling accordion, it can be spread on the floor and play creatively in a theater, where the main role will be cute animals: a giraffe, a tiger, an elephant and a teddy bear.
The unfolded book is a colorful queue with wagons, in each cart there is a large puppet for full handle for role-play fun. What's more, the front cover of the book already hides a surprise - mini puppet-puppets. Thanks to this, you can play an unlimited number of games, e.g. a parent (a large puppet) and a child (a small puppet).
✔ You decide on the color of the outer cover of our book! Choose pink or sky blue queue.
Additional information
4-step guide to sensory books:
Step 1 - Get to know the sensory book better: TOP 5 facts
Step 2 - Complete guide to the benefits of Quiet Books
Step 3 - Find out is the sensory-book for you (QUIZ)
Step 4 - 7 reasons to choose TimoSimo
Properties
Dimensions: L 30cm x W 30cm ( folded book)
Number of pages: 4 (+ cover)
Material composition: cotton and felt.
Cleaning: gentle hand washing or washing in a washing machine 30 degrees without spinning
All materials used are of the highest quality and have the necessary certificates.
Handmade product - the colors of the elements may slightly differ from that shown in the photo.
NOTE!
The product may be used by a child ONLY in the presence of a parent!
Remember, your child's safety is paramount!
This book is not suitable for children under the age of 1.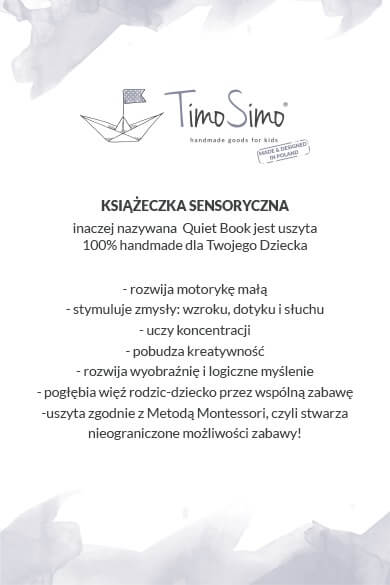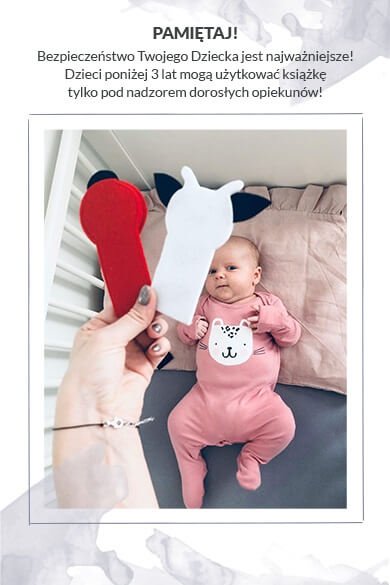 Customers who bought this product also purchased...